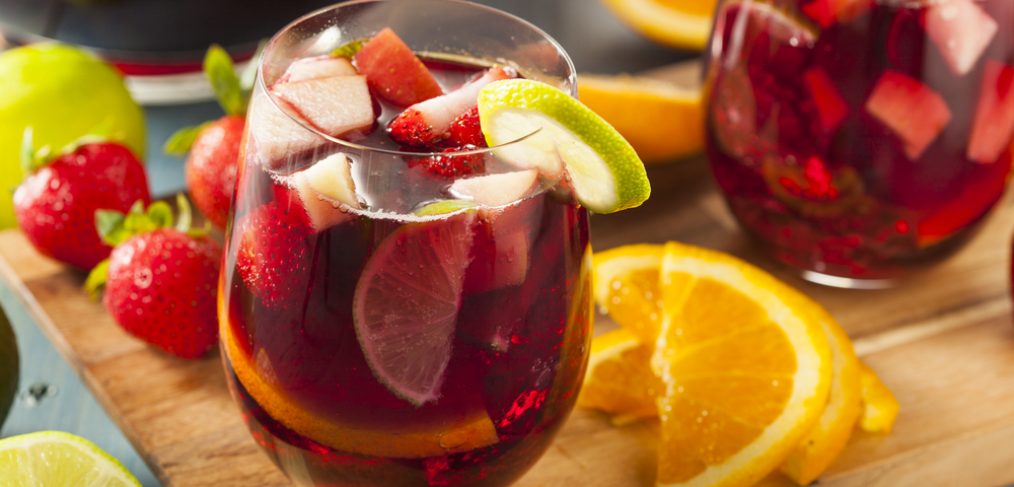 Moscato Wine Cocktails
Moscato wine is well-known for its distinctive sweet, light flavor that is full of fruit notes such as apple, peach, pear, lime, orange and pineapple. While moscato wine is a delicious, refreshing wine on its own, the sweet fruity flavor of this wine lends itself perfectly to making incredible cocktails. Below, find some of our favorite moscato wine cocktail recipes.
Sparkling Moscato Punch
This moscato punch is super quick and easy, making it perfect for last-minute get togethers.
Ingredients:
1 (750) bottle moscato
¼ cup pomegranate seeds
¼ cup raspberries (fresh or frozen)
¼ cup apples chopped
½ orange thinly sliced
1-1 ½ cups sparkling water
Combine all ingredients in a large pitcher and stir gently. Serve immediately over ice or chill in refrigerator to give flavors a strengthen.
Citrus Berry Moscato Sangria
Perfect for making ahead, this moscato sangria is sure to delight with a mixture of lively citrus and sweet berries.
Ingredients:
1 cup sugar
1 cup water
1 cup raspberries
½ cup blueberries
1 orange thinly sliced
1 grapefruit thinly sliced
¼ triple sec
1 (750ml) bottle rose moscato
Add water to a small saucepan and bring to a boil over high heat. Once boiling, add sugar and stir until dissolved. Remove from heat and allow simple syrup time to cool. Add raspberries, blueberries, orange, grapefruit, triple sec and half of the cooled simple syrup to a large pitcher. Fill pitcher with rose moscato and stir all ingredients together. Taste and if necessary, add remaining simple syrup. Allow to chill at least two hours prior to serving.
Sparkling Moscato Mimosa Floats
This holiday season, surprise your family and friends with a twist on the classic mimosa by making these sparkling moscato mimosa floats that bring together the holiday flavors of cranberry and orange. These cocktails work best when made individually, so you can skip the pitcher for this recipe.
Ingredients:
1 (750ml) bottle sparkling moscato
8 cups orange juice
⅛ to 1.4 cup cranberries
cranberry juice
orange sherbet
Place desired amount of cranberries in the bottom of a wine glass, then fill halfway with sparkling moscato. Add orange juice being sure to leave room for a small scoop (½ cup or less depending on the size of the glass) of orange sherbet. Top the drink with a splash of cranberry juice and garnish with extra cranberries if desired.
Pear Cranberry Moscato
Another super quick and simple drink to make, this cocktail is perfect for a cozy evening in or for two, but works just as well for festive holiday party crowds.
Ingredients:
1 cup cranberries
1 cup pear peeled and chopped
1 (750 ml) bottle moscato wine (use sparkling moscato for a more festive drink)
cinnamon sticks
Add cranberries and pear to a small saucepan and cook over low heat with the lid on. Stir every five minutes, mashing up the fruit as much as possible. Cook until fruit is very soft, about 15-20 minutes. When finished, strain using a fine mesh sieve. Throw away fruit solids and chill fruit puree until ready to use. Add fruit puree to the bottom of a champagne flute or wine glass, then fill with moscato. Garnish each glass with a cinnamon stick stirrer for a bit of sweet spice.
Mix up one of these moscato cocktails when you want a light, sweet cocktail. Adjust levels of fruit or sugar to your tastes and experiment using other citrus fruits, such as lime or pineapple or juicy fruits like peaches and watermelon. These delicious moscato wine cocktails are easy to make and can be enjoyed anytime. Cheers!