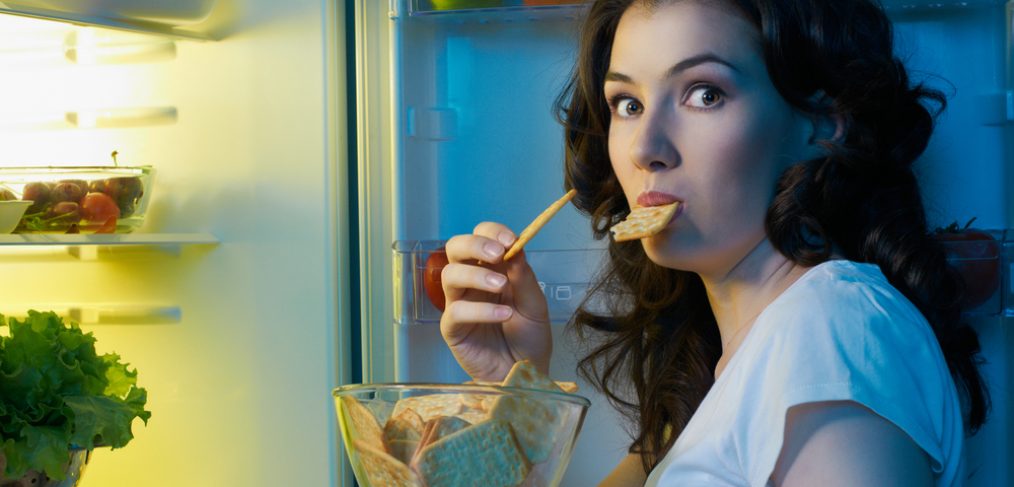 The Science Behind Midnight Snacking
You, and probably everyone you know, have enjoyed a treat at night. It's a totally normal, though not super healthy, habit among many. However, midnight snacking can become a big problem and lead to excessive weight gain. The tendency to graze is a contributing factor to evening snacks, and often the amount of food you consume at night is far greater than the snacks you chow down on during the day. Why do you eat more at night?  Resveralife came across a recent study offers scientific research that help explain why you seem to inhale your nighttime snack.
The Study
A study conducted by researchers at Brigham Young University delves into why you are more prone to consuming more food at night than when you snack during the day. Researchers at BYU monitored participants' brain activity in the morning and again at night. Each participant was shown the same 360 images of food and they used MRI scans to visualize the results. The pictures of food were split into two categories:  healthy foods such as fruits, vegetables and whole grains and junk foods like ice cream, potato chips and brownies. During the course of the day researchers noted that the brain activity of participants did spike when pictures of food were shown. It isn't surprising that seeing food stimulates a response in your brain, but what is interesting is that when viewed at night, the brain was less stimulated. At both times of day, there was a higher neural response when participants viewed pictures of foods with a higher  calorie count.
When you eat a great meal or one of your favorite foods you get a high from that food. At night, the drop in brain activity can leave you scarfing down way more chocolate or potato chips than you meant to. During the evening, our brain does not get the level of reward or "high" that it does when snacking during the day. Because you don't get the high, you continue to eat well past what you intended to. According to Travis Masteson, the researcher and lead study author, people may over-consume food at night because it is not as rewarding, at least visually, at that time of day. As a result, one needs to eat more to try to get satisfied."
How to Control Midnight Snacking
The researchers at Brigham Young University are not sure why food is less rewarding at night but believe that the body's circadian rhythyms may be involved. Your circadian rhythyms dictate your natural patterns during rest and activity.
Even if the reason is not completely known at this point, you can rest assured that you are not the only having difficulty curbing your snacks at night. What do the experts suggest? Masterson says that "[b]eing aware that you are being more influenced visually in the morning and perhaps are being less satisfied by food at night may help you make small but meaningful changes in your eating habits."
When snacking at night, take a moment to truly taste the food that you're eating. Ask yourself if you are actually receiving satisfaction or pleasure from the snack you are consuming. If not, put the food down and drink a tall glass of water instead.