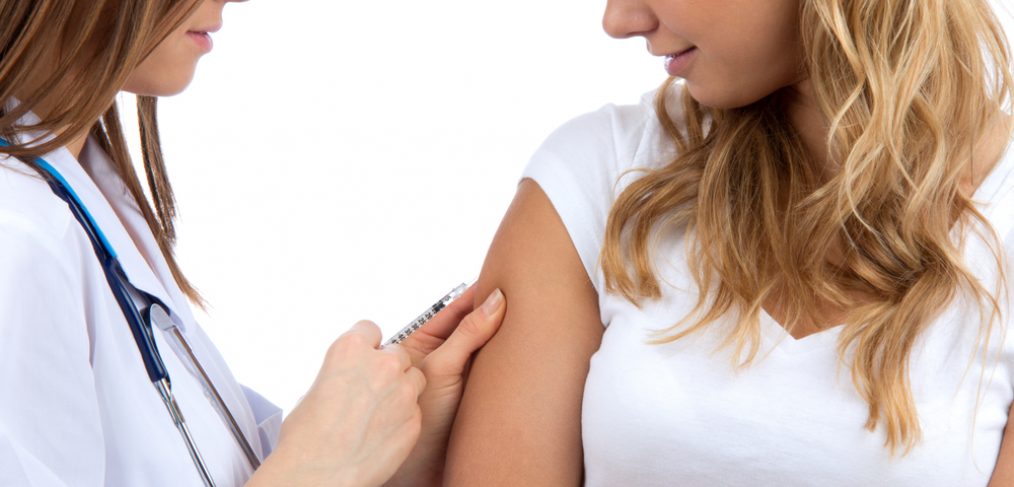 Schedule These Boosters Now
"It might hurt a little but it'll help a whole lot!" That's the catchphrase from the "Sid the Science Kid Getting a Shot: You Can Do It!" video clip. The short is designed to make kids who dread getting their vaccinations an idea of what to expect. Of course, the goal of the clip is to make the child more comfortable. Does it work? Well, the needles still look pretty darn scary, but it may help you convince your kid that there is a likelihood of getting a nasal spritz instead of an injection. Also, the song is pretty catchy.
Although most of us associate the thought of vaccinations with cartoon character band- aids and lollipops, there are some important booster shots that adults should not go without. Here are some boosters that you should be thinking about scheduling so that you and your family can stay healthy throughout the year.
Tetanus
If you've got a hunky handyman working on a project around the house, you may want to get him a tetanus booster in case he gets a wound or cut. Men under the age of 59 are three times more prone to get tetanus because that have not had their booster shots. The TD vaccine for tetanus and diphtheria needs to be administered every ten years. Both tetanus and diphtheria are serious diseases that are caused by bacterial toxins. Be sure to get yourself immunized.
Chickenpox (varicella) Chickenpox can be serious if it develops after childhood. Adults who are not already immune should get this vaccination. The chickenpox vaccine requires two doses and is not recommend for pregnant women and individuals with immune system problems.
Hepatitis A
Adults who live in communities where outbreaks of hepatitis A are common, or who are planning to travel to foreign countries in South or Central America are advised to get this vaccine. Adults with risk factors like liver disease should also be vaccinated if they are not previously immune. Hepatitis A is a viral infection affecting the liver and is usually caused by eating or drinking contaminated food or water.
Influenza
While no one should go without the flu shot, they are espcially important for individuals with health conditions like heart, lung, or immune system disorders, or asthma, which can be complicated by the flu. Health care workers who work with people at risk for the flu and caregivers of children under 2 are also advised to get the vaccination, as rare pregnant women. The flu vaccine should be repeated each year because the strains of influenza changes each flu season. Healthy, people between 5 and 49 have the option of the nasal- spray vaccine along with the injection, so you're in luck if your hate needles.
Measles, Mumps, Rubella (MMR)
People born after 1957 may need the MMR vaccination if they aren't already immune. The vaccine is not for pregnant women or people with immune system disorders and Women should not become pregnant for 28 days after being vaccinated.
If you are at risk of contracting any of these diseases, you should get vaccinated pronto. But don't worry, if Sid the Science Kid can do it, so can you! Let us know how your vaccinations went. Good luck and keep healthy.