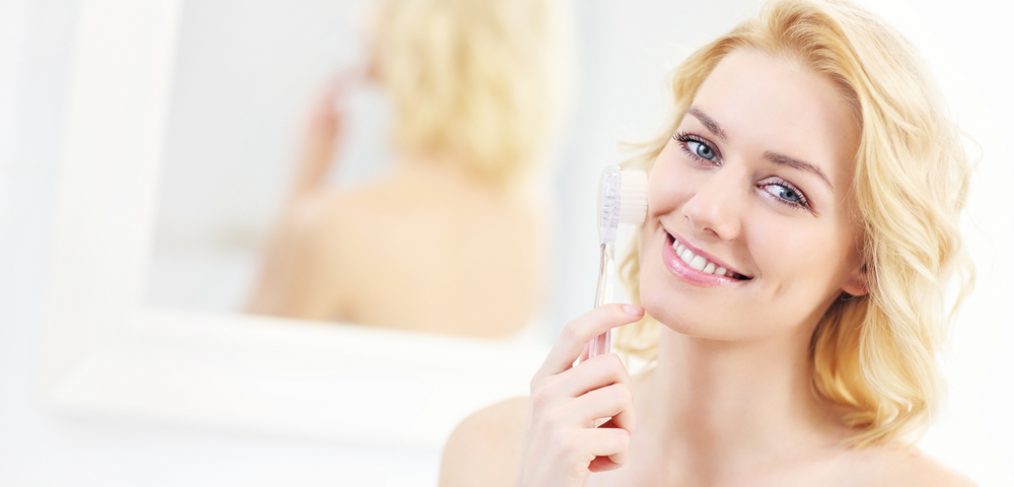 Resveralife Investigates Skin Care Brushes
You've finally developed a skin care routine that works for you. You have your products, and the ingredients in them, specially chosen to address your specific skin concerns and you are faithful to your cleansing routine. That's pretty much all you can do for your skin, right? Nope. If you want to take skin care to the next level, consider the use of skin care brushes.
Skin care brushes have become increasingly popular since the Clarisonic turned from a cult beauty product to a mainstream must-have. But is it really worth the price tag? And can is really work on all skin types? Fortunately companies hopped on the skin care brush bandwagon quickly, so there are numerous options for different skin types and different price points. Should you invest in one? We've done some research and the answer is….maybe.
In an article published by The Huffington Post, dermatologist Dr. Ariel Ostad states that cleansing brushes can work, but one needs to be careful. Why do you need to exercise caution while cleansing your face? Dr.Dennis Gross explains, that overuse of these products could lead to excessive dryness, broken capillaries, redness, irritation and sensitivity. If such issues occur, one needs to alter usage or stop immediately.
Cleansing brushes can be incredibly beneficial to your skin. They help with exfoliation, they penetrate the pores more deeply than your fingers can and they help treatments like serums or oils absorb more quickly, and better, into your skin. However, the problem is that with these devices there is some danger in irritating your skin. Experts recommend using skin care brushes a few times a week to avoid completely drying your skin out. If you really can't go a day without your brush, use it at night to completely remove makeup, sebum and other daily debris from your face.
In addition to not using skin care brushes too frequently, Dr. Dennis Gross warns that the brush heads should be well maintained in order to remain as effective as possible. You can keep your brush free from acne-causing bacteria by using soap and water to wash it. If you want to provide a bit of a deeper clean, you can use alcohol to cleanse the brush head and don't forget that the brush heads do need to be replaced every couple of months.
So do skin care brushes live up to the hype? They can, but there are several conditions that you should keep in mind before investing in a costly skin care brush. Do not buy it planning to use every single time you wash your face, because in this instance the brush is far more likely to cause damage rather than help you get the best looking skin possible. Also, do not forget to sanitize the brush heads frequently (once a week depending on how often you use the brush) and change them out for new ones every few months. Skin care brushes can help you take your skin care routine to a whole new level, but they must be used with caution.