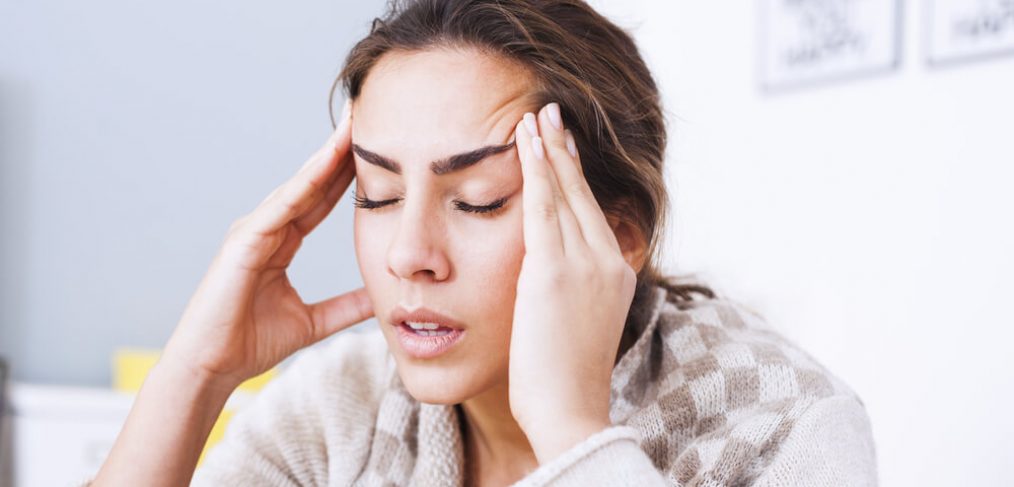 Having Killer Headaches? Try These Cures
Headaches are the second most common form of chronic pain, and, when your head is truly pounding, it can be hard to concentrate on other parts of life, whether this may be work, driving, or even having a simple conversation.
Rather than reaching for the drugs, give one of these tips a try the next time you are having a killer headache.
Sip on Ginger Tea
Ginger has long since been used to treat a variety of ailments, by cultures all around the world. Now, thanks to a number of clinical studies that have been carried out with this ingredient, scientists are backing it too.
So, what exactly does ginger do?
It targets the blood vessels in the head, reducing inflammation and therefore reducing pain. This is especially useful for those who suffer from migraines, as migraines are caused by excessive dilation of blood vessels in the head.
The quickest and easiest way to make use of ginger is by steeping the root in some water to make a tea, adding in some fresh lemon juice if you would like an extra tang.
To use ginger topically, mix together a paste with some ginger powder and a couple of tablespoons of water, and apply this directly to your forehead for a few minutes.
Stretch It Out
Headaches are often caused by muscle tension, and this can sometimes be relieved through stretching.
There are a few stretches in particular that will help to target the muscles that often contribute to headaches:
Stretch your neck by moving your chin forwards, upwards and then towards each shoulder, before repeating

Shrug your shoulders upwards, and then forwards and backwards, before repeating

Press your palm into your forehead and hold it there for a few seconds, before pressing a hand onto each side of your head

Rotate your neck in clockwise and anticlockwise directions
Try to do these stretches twice a day, repeating each stretch three to five times, with a five second break in between each one.
Give Acupuncture a Try
Acupuncture is a form of Traditional Chinese Medicine that has been used for centuries to treat a wide range of different health issues, with thin needles being inserted underneath the skin, to rebalance the body's flow of energy.
Sound painful?
It really isn't. All you will feel is a slight tingling feeling when each needle is inserted.
However, there are only certain headaches that acupuncture can treat…
There are two main types of headaches out there; primary and secondary. Primary headaches include tension headaches and migraines, while secondary headaches are brought on by another health condition, such as a head injury or allergies.
Acupuncture is mainly used to treat primary headaches, whether this may be a frustrating headache that seems to return each day, or a migraine that seems to never completely disappear.
Each session lasts for around 30 minutes to an hour, and the cumulative effects of a few sessions can be a long-lasting way to prevent any future headaches.
Drink Up
Headaches are a common symptom of dehydration, and these can often be quickly cleared simply by drinking a few glasses of water.
This method can work for a variety of different headache types, from tension to cluster. Even if you do not feel dehydrated, drinking a few glasses of water is an easy method that is still definitely worth a try.
Beverages containing electrolytes are also a great way to boost hydration, and could help if plain water does not seem to be working quickly enough.
Take a Screen Break
If you have been spending a significant amount of time staring at a screen, whether this may be your computer at work, your TV at home, or your smartphone, this could be the reason behind your tension headache.
Try taking a break from your screen for a while, and seeing if that eases the pain.
Whether or not your screen is causing your headaches, you should really be taking regular screen breaks anyway, even if this is just for a few minutes at a time to have a drink of water or stretch your legs.
Use a Compress
Another easy method to soothe a headache away is to use a compress, holding this against the back of your neck.
Wondering whether to go hot or cold?
If your headache is more of a dull pain, go with a hot compress, whereas if it is pulsating or throbbing, use a cold compress. This will help to lower the temperature of your blood before it enters your brain, reducing any inflammation.
Sniff A Soothing Scent
There are certain herbs out there that have scents capable of clearing even the roughest of headaches.
Here are a few to try:
Peppermint Oil –

opens up clogged blood vessels in the head and regulates blood flow. Either mix some with water and rub this on the back of your neck, as well as your temples, or simply rub some crushed peppermint leaves on your forehead. You could also make a herbal tea with peppermint leaves, either fresh or dried, and sip this slowly, while inhaling the scent.
Lavender Oil –

this is another herb that is known for alleviating headaches, and can simply be inhaled straight to enjoy its benefits. Alternatively, mix a couple of drops in with some almond or olive oil and massage your head with this, or put a few drops into some hot water, and inhale the steam.
Rosemary or Thyme Oil –

rosemary and thyme oil have been used for centuries to treat headaches. For best results, dab a drop of the oil onto each temple, as well as onto your forehead, and massage this gently into your skin.
Basil Oil –

works as a muscle relaxant, so will clear headaches caused by muscle tension. Make a tea with fresh basil leaves, or simply chew on the leaves themselves. You can also place some fresh leaves into hot water, and inhale the steam.
Cloves –

contains cooling and pain-relieving properties, making them great for throbbing headaches. Crush a few cloves and wrap them in a clean cloth, before inhaling the scent repeatedly. Alternatively, mix some clove oil with coconut oil, as well as a bit of sea salt, and use this to gently massage your forehead and temples.
Try Yoga for Tension Headaches
If you know that your headaches are caused by tension, then yoga is something that you may want to try.
Why?
Yoga relaxes the muscles in your head, neck and back, while boosting circulation to your upper body and brain, all of which can quickly relieve a tension headache.
As soon as you notice the first sign that a headache is on its way, you should give a few of these yoga poses a go, as this will prevent your muscles from going into spasm:
The Simple Seated Twist
Gomukhasana Arms
The Side Stretch
Grabbing Opposite Elbows
Take a Magnesium Supplement
Magnesium used to be abundant in the plants and animals eaten by humans, but, due to a depletion in soil quality, natural sources of magnesium are hard to come by.
Why does this matter when you have a raging headache?
Because one of the most common symptoms of a magnesium deficiency is a headache, especially migraines.
Not only do people who experience migraines have lower levels of magnesium in their body than people who do not, but one study found that a regular intake of magnesium could actually lower the frequency of developing a migraine by 41.6%.
Wondering which is the best form of magnesium to take as a supplement?
Go for magnesium oxide, of which you will need between 400-500 milligrams each day. Even if your migraine has already started, taking a magnesium supplement immediately can help to soothe it.
Need some help right now, but don't have any magnesium supplements to hand?
Try snacking on one of these:
Pumpkin seeds

Sunflower seeds

Blue poppy seeds

Cashew nuts

Almonds

Dark chocolate
See if these sources of magnesium help with your migraines; if they do, you can count on having them regularly.
Eat Some Headache-Busting Foods
There are certain foods out there that contain compounds capable of quickly soothing a headache.
Feel the pain beginning to come in?
Head on down to your nearest grocery store and stock up on these ingredients:
Cherries –

contain a compound called quercetin, which is not only a strong antioxidant, but also has anti-allergy and anti-inflammatory properties. Quercetin helps the body to block out pain, reducing the severity of a headache. Eat around 20 tart cherries to experience the effects, or a glass of cherry juice.
Spicy Foods –

whether you go siracha or hot peppers, spicy foods will clear your sinuses, and therefore open up your airways. This alleviates any pressure and soothes the pain of a sinus headache.
Bananas –

bananas are packed with B vitamins, which increase the levels of serotonin in the brain, meaning that they work in a similar way to an anti-depressant. This then lowers the amount of pain that your body feels, reducing the severity of a headache.
While you are dealing with a headache, it is also important to avoid headache-triggering foods. From cheese to processed meats to artificial sweeteners, try to stick to a wholesome diet when healing your body.
Walk It Off
While you may not feel like exerting yourself too much when suffering from a killer headache, exercise is actually a great way to relieve yourself of the pain.
How?
Exercise triggers the body to release endorphins, which are basically the body's natural painkillers. If you begin to exercise regularly, you will notice a reduction in the frequency and intensity of your headaches, as well as your migraines.
So, the next time you feel a headache coming on, step outdoors and take a brisk walk, preferably somewhere quiet. Even if this is only for ten minutes, this is still enough time to stimulate your brain to release the endorphins that will soothe your head.
Relaxation Exercises
While additional research in this area is still needed, current studies show that relaxation exercises could really help reduce the intensity of a headache.
What exactly are relaxation exercises?
They could be anything from listening to calming music, using mental imagery to unwind, or doing some deep breathing.
Try this the next time you have a headache:
Lie still, breathing in and out slowly

Think of a mantra and repeat this in your head, to stop your mind from wandering

Beginning with your toes, contract and relax your muscles one at a time, working your way up your legs through your body, until you reach your head.

Take your time with this, so that it takes around 20 minutes
Change Your Pillow
If you tend to wake up with a headache in the morning, this could be down to your pillow.
Pillows are designed to keep the head in line with the neck and spine while a person is sleeping, but if you end up with your head being misaligned, this can lead to headaches.
Pay attention to your pillow density, as those that are too soft do not provide enough support, while those that are too hard can lead to other problems.
How often should you be changing your pillow.
Every few months, or when they start to lose their original form. 
When suffering from killer headaches, it can be easy to just reach for the pills to numb the pain, but this is not something that you want to be relying on in the long run. By giving some of these methods a try, you may just find an easy, and completely natural, way to soothe a raging headache.