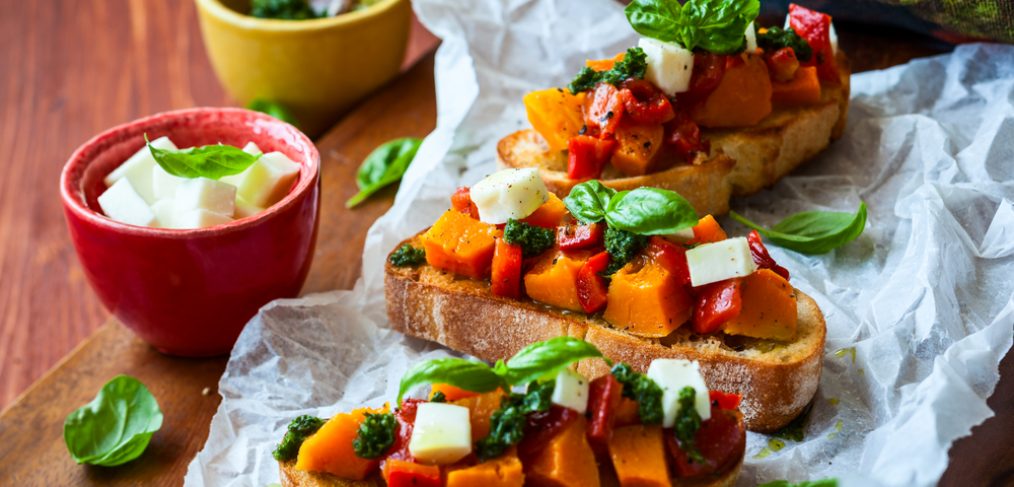 Eat Well: Fall Squash Recipes
Pumpkin is actually a type of squash and it tends to steal the show during fall. However, other varieties of squash are just as delicious and versatile when it comes to fall cooking and baking. Our favorite squash recipes cover the basis from traditional, cozy classics such as a cream soup to zesty, Mediterranean-inspired spaghetti squash. Whip up these recipes for a delicious taste of fall.
Butternut Squash Cream Soup
Ingredients:
2 (8 oz) packages cream cheese
6 cups peeled and cubed butternut squash
3 cups water
6 tablespoons chopped yellow onions
4 tablespoons butter
4 cubes chicken bouillon
½ teaspoon dried marjoram
¼ teaspoon black pepper
⅛ teaspoon cayenne pepper
Saute butter and onion until tender in a large saucepan. Add squash, water, chicken bouillon cubes, marjoram and black and cayenne pepper. Bring everything to a boil and cook until squash is tender, about 20 minutes. In one cup batches, puree the soup mix and cream cheese until smooth in blender or food processor. Return pureed soup to the saucepan and heat thoroughly, but do not allow to boil.
Mediterranean Spaghetti Squash
Ingredients:
1 spaghetti squash seeded and halved lengthwise
1 ½ cups diced tomatoes
¾ cup crumbled feta cheese
3 tablespoons sliced black olives
2 tablespoons fresh basil chopped
1 onion diced
1 clove garlic minced
2 tablespoons olive oil
Lightly grease a baking sheet and preheat oven to 250 degrees Fahrenheit. Place spaghetti squash cut side down on the greased baking sheet and bake in preheated oven until a sharp knife can be inserted with just a little resistance. This process usually takes about 30 minutes. Remove from oven and set aside while allowing the spaghetti squash to cool. Heat olive oil in skillet over medium heat. Add onion and cook until translucent and tender then add garlic. Cook until fragrant, about two to five minutes. Finally, add tomatoes and olives and stir just until warmed through. Scoop the stringy pulp from the cooled spaghetti squash and place in a bowl. Add vegetables and feta cheese and toss together.
Roasted Butternut Squash
Ingredients:
1 butternut squash peeled and cubed
2 garlic cloves minced
2 sprigs fresh rosemary finely chopped
2 tablespoons olive oil
Sea salt and cracked black pepper to taste
Preheat oven to 400 degrees Fahrenheit. Toss butternut squash, garlic, rosemary, olive oil and salt and pepper together until thoroughly mixed. Spread evenly into a large baking dish. Bake in preheated oven until squash is tender, caramelized and golden brown, about 45 to 50 minutes.
Parmesan Roasted Acorn Squash
Ingredients:
2 lbs acorn squash halved lengthwise, seeded and cut into ¾ inch slices
¼ grated Parmesan cheese
8 sprigs fresh thyme
2 tablespoons olive oil
½ teaspoon sea salt
½ teaspoon cracked black pepper
Preheat oven to 400 degrees Fahrenheit. Toss squash slices with olive oil, Parmesan cheese, thyme sea salt and black pepper until evenly coated. Place slices on baking sheet and roast in oven until the squash slices are tender and golden brown, about 25 to 30 minutes.
Squash is excellent during any time of the year, but it is particularly festive during the fall. Our favorite fall squash recipes only scratch the surface of what you can create using squash as your primary ingredient. Make a traditional Bolognese sauce for spaghetti squash or use butternut squash in place of yams for your Thanksgiving casserole. Gather your ingredients and your family and create a comforting fall squash meal tonight.