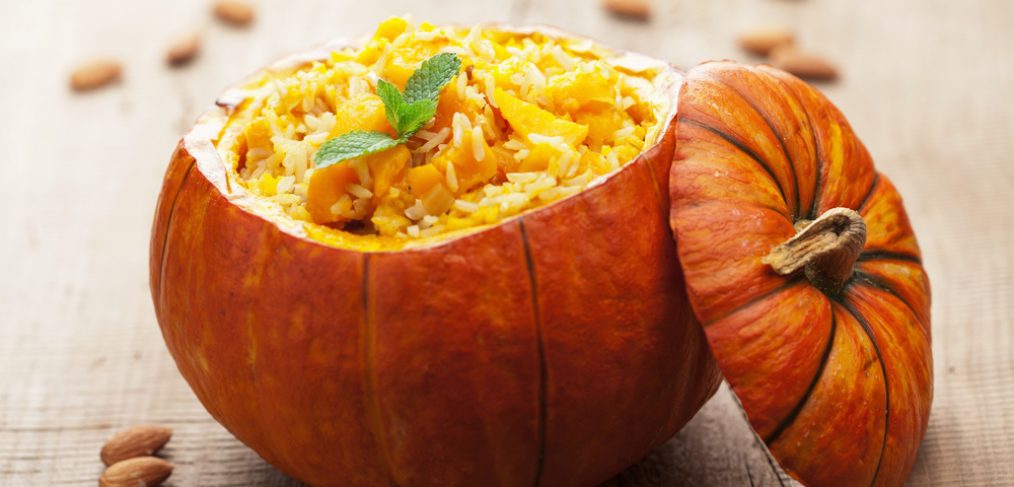 Eat Well: Fall Pumpkin Recipes
When you think fall you think pumpkins and when you think pumpkins you think pie, cookies and lattes. While pumpkin pie is definitely a must-have for fall, we've rounded up three fall pumpkin recipes that use pumpkin in ways you might not have before. We've got a breakfast, lunch/dinner and dessert that are perfect for fall.
Pumpkin Pancakes
Start a cold weekend morning off with a cozy taste of fall.. These pumpkin pancakes are a treat for the whole family.
Ingredients:
1 ½ cups milk or milk substitute
1 cup pumpkin puree (fresh or canned)
1 egg
2 tablespoons vegetable oil
2 tablespoons vinegar
2 cups flour
3 tablespoons brown sugar
2 teaspoons baking powder
1 teaspoon baking soda
1 teaspoon ground allspice
1 teaspoon ground cinnamon
½ teaspoon ground ginger
½ teaspoon salt
In a bowl mix milk, pumpkin, egg, oil and vinegar. In a separate bowl, combine flour, brown sugar, baking powder, baking soda, allspice, cinnamon, ginger and salt. When combined, add to the pumpkin mix and stir gently, just enough so that the two are combined. Heat a pan over medium heat and pour batter onto the pan using ¼ cup at a time. Brown on both sides and serve with your favorite topping. This recipe makes about 6- ¼ cup pancakes.
Pumpkin Soup
Warm dishes and the ubiquitous fall flavor are the perfect mixture for fall. Try this creamy soup to fill you up and keep you warm.
Ingredients:
3 cups chicken stock
1 ¾ cup fresh cubed pumpkin (use 1-inch cubes)
½ cup chopped onions
¼ cup heavy whipping cream
¾ teaspoon of salt
½ teaspoon fresh parsley
¼ teaspoon fresh thyme
½ clove garlic, minced
2 whole black peppercorns
Bring chicken stock, cubed pumpkin, onion, garlic, thyme, peppercorns and salt to a boil, then reduce heat to low. Allow to simmer, uncovered, for about 30 minutes. Remove one cup of the mixture at a time and puree using a food processor or blender. Return all of the pureed soup into the original pot and bring to a boil once again. Reduce the heat to low once again and allow the pureed soup to simmer, uncovered, for 30 minutes. Stir in the heavy whipping cream, pour into bowls and garnish with fresh parsley. This recipe makes about four servings of soup.
Pumpkin Mousse
Everybody loves pumpkin pie or pumpkin spice cookies, but this easy mousse is a new and delicious way to serve pumpkin for dessert.
Ingredients:
1 tablespoon butter
24 small marshmallows
½ cup pumpkin puree (fresh or canned)
½ cup milk
1 teaspoon vanilla extract
1 teaspoon pumpkin pie spice
⅓ cup confectioner's sugar
1 cup heavy cream
Begin by melting the butter in a large skillet. Stir in marshmallows, milk and pumpkin. Continue to stir frequently until melted, creamy and smooth. Remove from heat and stir in vanilla and pumpkin pie spice. Allow to cool completely for about 30 minutes. Combine confectioner's sugar and heavy cream in a bowl, then beat with an electric mixer until stiff peaks form. Fold the whipped cream into the cooled pumpkin mixture and spoon into serving dishes. Cover and place in the fridge until firm (around two hours).
There are so many amazing culinary uses for pumpkin, you just have to think a bit creatively. Make a savory pumpkin chili or whip up a pumpkin protein smoothie. Gather your family and test out our fall pumpkin recipes for a fun and filling meal.