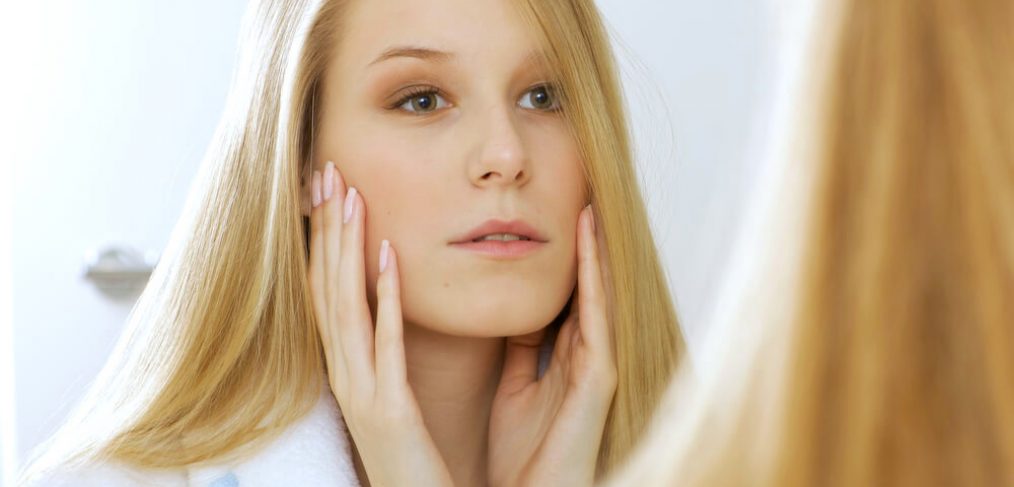 Dehydrated Skin? Try These Easy Tips
Dehydrated skin can lead to so many different skin problems, from premature aging to a dull and rough complexion, making this an issue worth dealing with as soon as possible.
Not sure where to begin?
Here are 12 tips to help you to treat your dehydrated skin.
What's the Difference Between Dry Skin and Dehydrated Skin?
Many people often think of dry and dehydrated skin as being the same thing, but this is not at all the case.
Wondering what the difference is?
The main difference is that dehydrated skin lacks water, while dry skin lacks oil.
Since water and oil are so different, you need to know for sure whether your skin is dry or dehydrated before you begin treating the problem.
Here are a few more details about each condition:
Dry Skin –

becomes more prevalent with age, due to the skin's natural lipid barrier decreasing. Symptoms include redness, itchiness and ashy areas, especially for those with a darker skin tone
Dehydrated Skin –

can be caused by a number of factors, such as not drinking enough water, sun exposure, and indoor heating or cooling systems. Symptoms include tightness, a scaly, rough or flaky texture, and the appearance of smaller pores 
If you think your skin may be dry rather than dehydrated, then you will need to look for ways in which you can counter that.
Make Sure That You Are Drinking Enough Water
Do you drink around eight glasses of water a day?
If your answer is no, then this could be one of the reasons as to why your skin is dehydrated.
All of the organs in your body need water in order to properly function, and each time you drink some water, this gets distributed to the organs that need it the most. These usually tend to be the vital organs, and the skin is last on the list, meaning that it often misses out when it comes to this dose of hydration.
However, while many may recommend drinking more that the recommended amount of water a day, this will actually not benefit dehydrated skin, unless you do feel thirsty. Any excess water will only end up being flushed out of your system, and not much of this will actually reach the skin.
To keep your skin at its healthiest, try to drink around eight glasses of water a day, or more if you are overly active.
Eat More Moisture-Rich Foods
As mentioned above, water that you drink ends up being directed to your vital organs first, meaning that your skin can sometimes miss out.
So how do you ensure that your skin is hydrated from within?
By eating moisture-rich foods, such as fruits and vegetables. 
These contain water, but in a more structured form, and rather than flushing out your system in the way that a glass of water would do, moisture-rich foods provide your body with long-lasting hydration. This water is released into your body slowly, making it more likely that your skin will receive some of this hydration. 
Wondering which fruits and vegetables contain the most moisture?
Here are some of the top moisture-rich foods out there:
Watermelon, Green Peppers and Strawberries –

92%  water
Cucumbers –

96% water, with most of this located in its skin
Iceberg Lettuce –

96% water
Pineapples, Oranges and Raspberries –

87% water 
Make Use of Hydrating Skin Care Ingredients
There are so many different skin care ingredients out there, and each one will bring its own range of unique benefits to the skin.
When it comes to hydrating ingredients, there are plenty to choose from, but one of the most effective is definitely hyaluronic acid.
Never heard of this powerhouse before?
Hyaluronic acid is a humectant, meaning that it draws moisture from the air towards the skin. It is able to hold up to 1000 times its weight in water, making it key when it comes to helping your skin to retain moisture.
Your skin naturally contains hyaluronic acid, but applying some more topically can make a huge difference. Look for this ingredient as part of a moisturizer or a serum for best results.
Other ingredients to look out for include:
Urea –

has strong water-binding properties
Plant oils –

improves the skin's water retention
Glycerine –

especially hydrating when used along with hyaluronic acid 
Ceramides –

helps with the skin's hydration balance
Niacinamide –

also known as vitamin B3, this helps to heal and strengthen the skin's barrier, preventing moisture loss
Stay Away From Dehydrating Skin Care Ingredients
While some ingredients are known for the way in which they hydrate the skin, others are infamous for being dehydrating.
If you already have dehydrated skin, then dehydrating skin care ingredients are the last things that you want to be applying to your skin.
These are a few of the ingredients that you should try to stay away from, at least until you have managed to treat your skin dehydration:
Alcohol

Fragrances

Harsh exfoliants  

Benzoyl peroxide

Salicylic acid
Make Use of Hydrating Face Masks
Face masks are designed to remain on the skin for an extended period of time, meaning that all of its active ingredients have enough time to properly penetrate your skin and work their magic.
Of course, there are so many different types of face masks out there, and not all of them are suitable for dehydrated skin. 
So, which ones do you go for?
Cream masks are great, because these are rich in oil and moisturizing ingredients, with many of them also containing hyaluronic acid.
Gel masks are also incredibly hydrating, especially since these tend to be infused with antioxidants, while sheet masks can also be beneficial, especially if you apply an extra layer of hyaluronic acid underneath the mask. 
Wondering which ingredients to look out for, as well as to avoid, when it comes to hydrating face masks?
The same ingredients mentioned above, as those apply to all skin care products.
Be Extremely Gentle With Your Skin
Dehydrated skin is usually a sign of some form of skin damage, meaning that you need to treat it just as gently as you would any of your other organs if they were to become damaged.
When touching your face, whether this may be to cleanse your skin or to apply a cream, allow your hands to smoothly glide over it, avoiding any scrubbing, rubbing or tugging motions.
Invest in a Humidifier
A humidifier and dehydrated skin go hand in hand, because this is something that can really help to add moisture back into your skin.
The optimum humidity level for your skin is around 55%. However, if you use central air in your home, this can bring the humidity level in your house down to 10%. As you can imagine, this is not good for dehydrated skin.
So, how does a humidifier help?
They work by adding water vapour into the air, therefore increasing the air's moisture content, and therefore the humidity of a room. By increasing the air's moisture levels, you then help to prevent it from pulling out moisture from your skin.
Wondering where to keep your new humidifier?
The best spot is usually in the bedroom.
Why?
Because the time during which you are asleep is when your skin cells are healing and regenerating, meaning that this is the time in which they require the right amount of moisture in order to properly function. The humidifier will help it with this, at the time when it needs it the most.
Can't decide between a warm mist and a cool mist?
Experts recommended going for a warm mist, as this is much closer to the skin's natural temperature. 
Don't Underestimate the Power of Sun Protection
If you often neglect to wear sunscreen, then this could be one of the big causes of your dehydrated skin.
Exposing your unprotected skin to the sun for an extended period of time leads to water evaporating from your skin, leaving it dehydrated.
How do you prevent this from happening?
With the use of sunscreen.
When it comes to choosing a sunscreen for dehydrated skin…
Many find that the physical sunscreen formulas often exacerbate any flaky or scaly areas.
Why is this?
Because the mineral filters used in a physical sunscreen, such as titanium dioxide and zinc oxide, also work as an astringent, meaning that they can have quite a drying effect. 
The best way around this is to either apply a layer of moisturizer on to your skin before applying a sunscreen, or opting for a chemical sunscreen formula instead.
Cleanse Your Skin Each Evening
Cleansing is actually extremely important for dehydrated skin.
Why?
Because if you do not remove the layer of dirt, dead skin cells, oil and more that settle on the surface of the skin throughout the day, any hydrating skin care products that you apply will not be able to properly penetrate into your skin.
Of course, with your skin being dehydrated, you do need to make sure that you opt for a gentle, moisturizing cleanser, staying away from foaming formulas.
Wondering why it is better to cleanse at night rather than in the morning?
Because this allows you to wash away all of the dirt from the day, while giving your skin the ingredients needed to help it with all of the work it does at night. If you cleanse immediately before going to bed, and sleep on a clean pillowcase, then your skin will still be clean in the morning.
Don't be tempted to cleanse twice a day, as over-cleansing can cause even more problems for dehydrated skin.
Use Oil-Blotting Paper for Excess Oil
As mentioned above, over-cleansing your face can cause numerous problems, but what happens if your dehydrated skin is oily as well?
While it may be tempting to scrub at your face a few times a day, this will only lead to even more breakouts.
One easy way to clear your skin of excess oil throughout the day is to use blotting papers, as these gently remove the oil without damaging your skin in any way.
Give it a Month
You are likely tempted to try some of the new skin care ingredients or techniques mentioned above, but patience is key here…
It takes, on average, about 28 days for your skin regeneration cycle to go through one round, meaning that this is how long it takes for your old skin cells to be replaced by new ones. The older you are, the longer this takes.
This means that, when trying anything new on your skin, you need to give it at least a month before deciding whether or not it works.
Of course, if anything you are trying is clearly affecting your skin in a negative way, then you should cease this immediately.
Dehydrated skin can definitely be frustrating to deal with, but you need to make sure that you treat it with the care it requires, otherwise it will only get worse. From knowing which ingredients to avoid to providing moisture to your skin in different ways, these tips will help you to rehydrate your skin in no time at all.