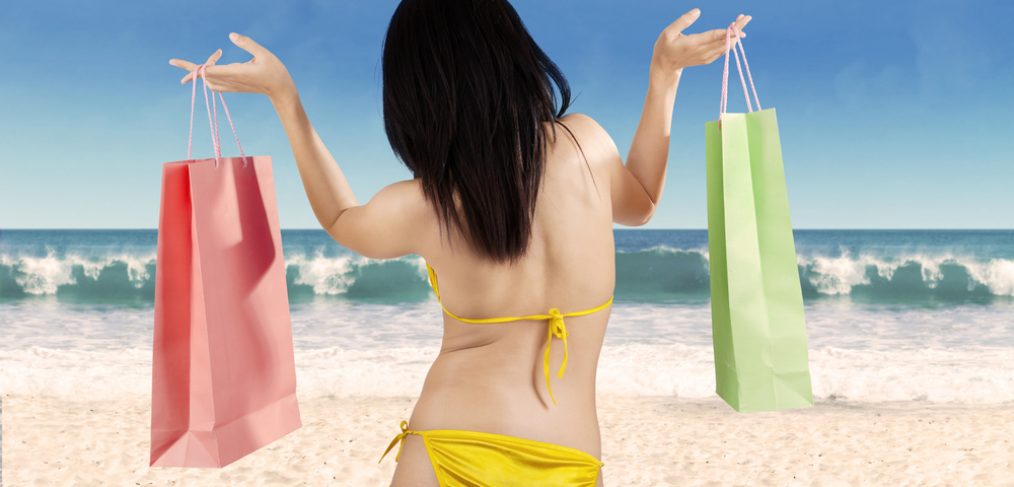 One time of year strikes fear in the hearts of even the bravest of women:  swimsuit shopping time. There are so many strikes against you before you even begin searching for the perfect suit. Dressing rooms are cramped with horrendous lighting and your body is probably pasty white from being covered up all winter. Swimsuit shopping is definitely one of the most dreaded tasks faced when the weather gets warmer. Fear not! These five tips from Resveralife will help you get into the right mindset, and the right suit, without the stress.
Before You Go
A little preparation can go a long way when it comes to swimsuit shopping. One of the best ways to reduce stress and self-consciousness before you even hit the store is to invest some time in a bit of grooming and pampering. Shaving your legs gives you one less cause for concern in the dressing room. You can even take the pampering a bit further by applying self-tanner prior to going out. These two simple acts can be a huge ego boost when it comes to stripping down in the dressing room.
Know Your Body
Just like there is not one pair of jeans that magically fits every body type, there is no swimsuit that fits every single body and looks magnificent. Spend some time looking at your body and determining what your general shape is. Also, if you have any areas that you want to hide, look for specific cuts that aim at achieving a bit of camouflage. Alternately, there are specific suits that highlight body parts or areas that you want to flaunt. Here's a super brief guide to suits that fit a few of the most common concerns when swimsuit shopping:
Stomach – If you want to hide your stomach a bit, look for swimsuits that have ruching or shirring. These details are forgiving. Additionally, one of the trendiest ways to hit the beach right now is the retro fit suit. Retro suits are especially helpful with concealing weight carried in the lower part of the stomach.
Large Bust – Even if you don't necessarily want to conceal your cleavage, there are certain difficulties that arise with an ample bosom. Look for bra-styled tops, particularly if they are molded cups, and always go for adjustable straps. Some swimsuits are sold by bra size; these can be a great place to start looking for a suit that will be stylish and supportive.
Small Bust – Those with less chest are some of the only people for whom bandeau tops work perfectly. If you aren't into that style, tops with details or texture like ruffles or fringe can give the illusion of curves. Suits that have bra-style padding or push-up tops help create cleavage if you don't have much naturally.
Curvy Body – Curvy bodies are beautiful, but they can be problematic to fit as they are fuller in the breasts, hips and butt. It can seem difficult to find a suit that highlights and fits your shape without looking matronly. Suits that have color blocking enhance and embrace a curvy shape as do retro cut swimsuits.
Grab a Friend
While the idea of displaying your body to another person during a swimsuit try-on session may make you cringe, it's actually a great idea. A friend is there to give you an honest, and hopefully tactful, appraisal of how a suit looks on your body. Additionally, if things don't turn out as you had hoped or you get frustrated and feel defeated, a friend is right there to pick you back up and make you feel awesome about yourself again.
Get Moving
When trying on a bathing suit, the mindset is generally to get in and out as quickly as possible so the experience is as painless as can be. However, your body standing still is much different than your body in motion, and you probably aren't going to be merely striking a pose in your suit. To get a true idea of whether or not a suit is right for you, it's important to move around a bit to see how the suit moves with you.
See a Specialist
While large retailers offer a wide variety of swimsuits, if you are having trouble finding one that fits well, head to a swimwear boutique. Sales staff at a specialized boutique will be able to assess your body and address your concerns. A swimsuit may cost a bit more at a boutique, but if the result is the perfect swimsuit that enhances your beauty, the extra cost is well worth it.
Swimsuit shopping may not be the most fun task for warm weather, but it doesn't have to be completely overwhelming. Follow these tips for easy, stress-free swimsuit shopping.