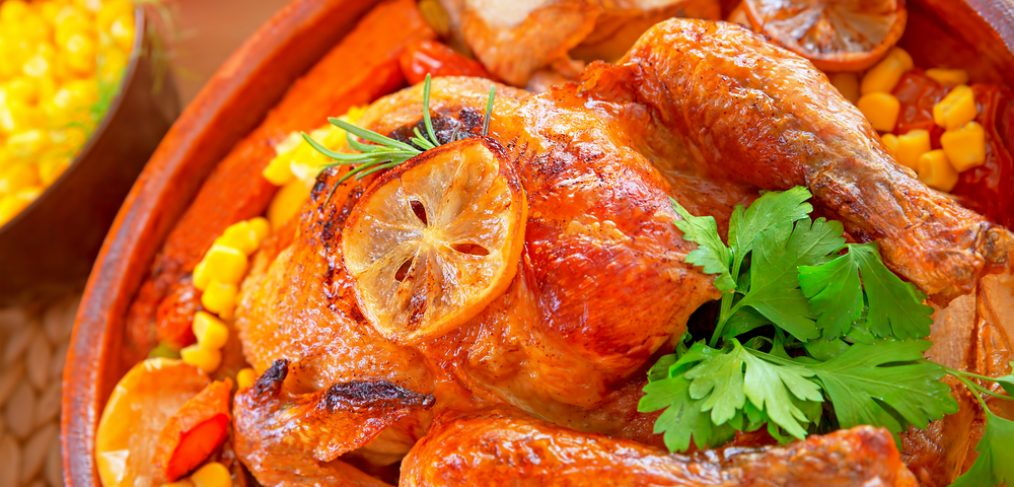 Thanksgiving is as much about the food and flavors as it is about giving thanks and practicing gratitude. Your table is likely full of dishes and recipes that have been passed down or are traditionally served for this holiday, but this year you may want to consider trying something new. Our super simple Thanksgiving recipes are quick and easy to make and are sure to please everyone gathered together. We've included a breakfast, appetizer, side dish and dessert so you can enjoy new flavors at any meal.
Pumpkin Muffins
Thanksgiving dinner steals the show this holiday, but you still need to eat breakfast to get your body going so you can make all the delicious dishes to fill your table. Start your morning with these super easy and festive pumpkin muffins.
Ingredients:
1 18.5 oz box yellow cake mix
1 15 oz can pumpkin puree
1 teaspoon ground cinnamon
½ teaspoon ground nutmeg
¼ teaspoon ground cloves
Preheat oven to 375 degrees Fahrenheit and grease muffin tin (or line with muffin paper liners). Mix all ingredients well in a large bowl and spoon equal amounts of batter into muffin cups. Bake in preheated oven for 20-25 minutes or until a toothpick inserted into the muffins comes out clean.
Fresh Cranberry Salsa
Say goodbye to the can of cranberry sauce and hello to the taste of fresh cranberries. This easy cranberry salsa makes a great Thanksgiving appetizer served with cocktails.
Ingredients:
12 oz fresh cranberries
1 bunch cilantro chopped
1 bunch green onions cut to 3 inches in length
1 jalapeno pepper seeded and minced
2 limes juiced
¼ to ½ cup white sugar
Dash of salt
1 8oz package cream cheese
Add cranberries, cilantro, green onions, jalapeno, lime juice, sugar and salt to the bowl of your food processor. Chop to a medium consistency and refrigerate. For best flavor, allow the salsa to refrigerate for 24 hours prior to serving. To serve pour salsa over softened cream cheese and serve with tortilla chips.
Honey Mustard Roasted Red Potatoes
Who says you have to eat mashed potatoes? If you feel like switching things up at the table a bit this year, try this delicious take on roasted red potatoes.
Ingredients:
2 tablespoons olive oil
1 tablespoon Dijon mustard
½ tablespoon honey
1 clove garlic minced
¼ teaspoon thyme
¼ teaspoon rosemary
Sea salt and ground black pepper to taste
5 red potatoes quartered or cut into 1 inch pieces
Preheat oven to 375 degrees Fahrenheit. Add all ingredients to a large bowl except the potatoes. Whisk the olive oil, Dijon mustard, honey, garlic, thyme, rosemary, salt and pepper together. Add potatoes and toss to make sure all potatoes are coated. Roast in preheated oven, turning occasionally, until tender. Depending on your oven this may take anywhere from 25 to 45 minutes, potatoes are done when a fork easily slides into potatoes.
Chocolate Rum Balls
Traditional desserts like pumpkin and pecan pie are definitely a tasty treat, but sometimes you're a bit too full after dinner to enjoy a slice. These simple, bite-size desserts are made a few days in advance (to allow for best flavor) so they won't take any time out of your holiday.
Ingredients:
2 cups crushed vanilla wafers
⅓ cup confectioners sugar
2 tablespoons unsweetened cocoa powder
1 cup chopped walnuts or pecans (optional)1 tablespoon honey
¼ cup spiced rum
1 gallon plastic zip bag
Additional confectioners sugar
In a large bowl, mix vanilla wafers, confectioners sugar, unsweetened cocoa and nuts. Once well mixed, blend in honey and spiced rum. Refrigerate for one hour. Shape rum ball dough into one-inch pieces. In a gallon sized plastic bag, add some additional confectioners sugar. Pour confectioners sugar into bag, add rum balls and shake well. Once coated with confectioners sugar, set aside in an airtight container for a few days to develop flavor.
Our favorite simple Thanksgiving recipes don't require much time to prepare but they sure taste like they did. Wow your crowd with some new flavors by whipping up one of these tasty recipes. Start a new tradition this year with our favorite simple Thanksgiving recipes that your friends and family are sure to look forward to all year.