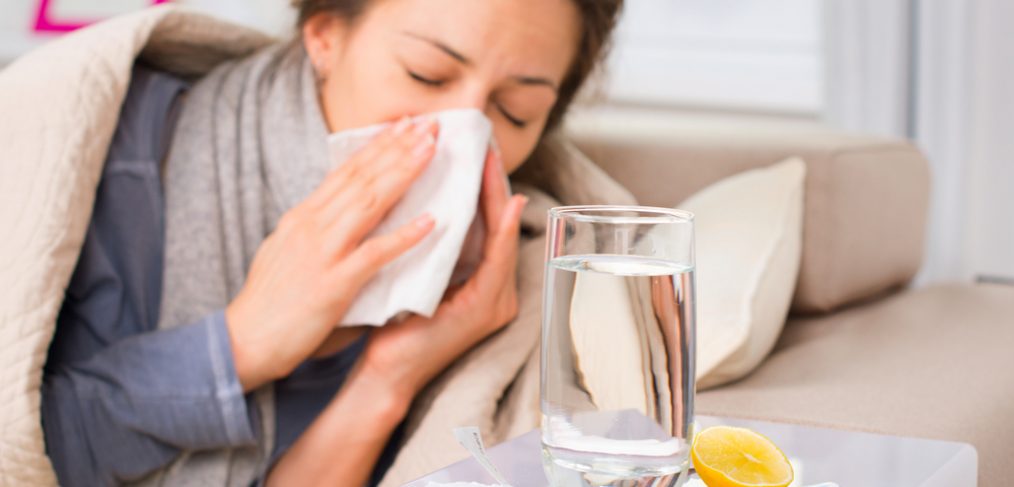 During her highly anticipated Diamond Tour, Rihanna contracted laryngitis and a cold after a Buffalo, New York appearance and was forced to cancel her upcoming shows. And little wonder! How can a girl from the tropical Barbados possibly be prepared for the unforgiving climate of Buffalo, New York?
And, while most people would agree that colds are inconvenient, uncomfortable, and unnerving when Rihanna contracts laryngitis, it is nothing short of a national disaster; after all, what is Rhi-Rhi without her voice? Not to mention all these gorgeous outfits hanging unworn in the closet. How sad! If only Rhi-Rhi had been prepped for cold and flu season!
Now, maybe your cold or flu is not likely to garner the attention on social media, but it is still distressing and does not come without costs. Here are some things you can do to avoid getting sick this year.
Load Up the Medicine Cabinet
The next time you're at the market make sure to add a few extra items to your list. You'll want to stock up on decongestants, cough medicines, antihistamines, pain relief meds, and vitamins. You may not need them now, but better safe than sorry.
Make Sure you Have the Right Equipment
Besides medicine, it's always a food idea to have a thermometer with fresh batteries, a humidifier, hand sanitizer, tissues, and anti bacterial soap. Remember, you won't feel like going out and getting them when your sick.
Bring On the Chicken Soup
Make sure your kitchen is ready to handle your cold. Make sure you have lots of fluids, including water and herbal tea, and Vitamin C loaded fruit juices. Also, be prepared with heat and serve comfort foods that can soothe sore throats and keep away chills.
Get a Flu Shot
Flus are extremely contagious and, unlike colds, can spread a day before its symptoms how up. The flu vaccine is the best way to protect yourself from the common flu strains and is updated each year according to predictions about the coming season.
Wash Your Hands Properly
Begin with anti-bacterial soap and warm water. Spend about 20 seconds lathering up, concentration on jewelry and fingernails. To track the time, you can sing "Happy Birthday" twice, but, be warned, the woman next to you may turn around and say,"How did you know?" Rinse and dry hands and use a disposable towel when touching the faucet.
Keep Household Surfaces Clean
Yes, even your house is not a safe haven. Cold and flu viruses can thrive on surfaces outside the body form between a few seconds to a few days. Clean surfaces with products containing alcohol, sodium hypochlorite, hydrogen peroxide, citric acid or bleach. There should be an EPA number on the label informing you whether or not the products meets the guidelines for disinfectants.
Have you done enough this season to fight off the cold and flu? What do you think? Did you get your flu shot this year? Let us know and tell us what you do to keep the germs away. Inquiring minds want to know.