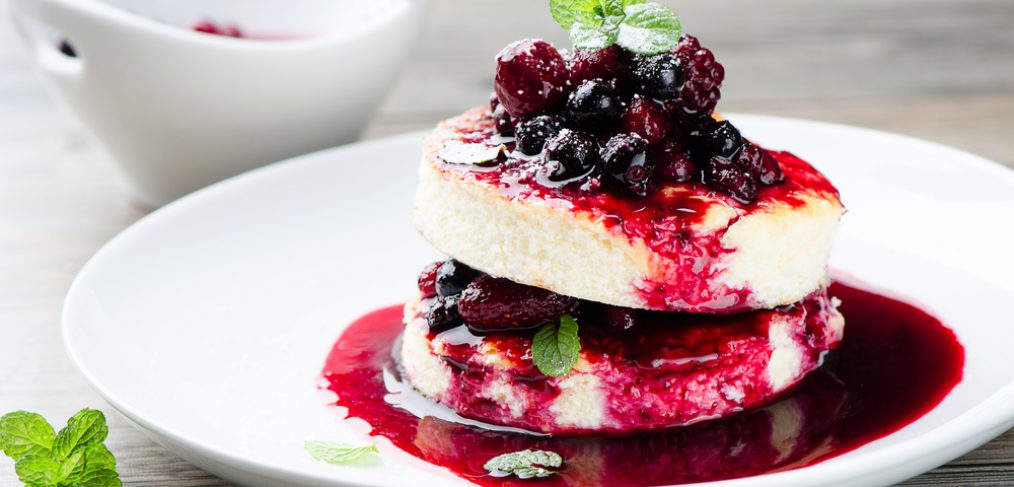 Resveralife Eat Well: Desserts for Easy Entertaining
Throwing a dinner party, or any party really, can be totally overwhelming. Between cleaning, decorating and cooking you spend days in preparing for your party. And in the end it's all worth it when you see the happy and satisfied looks on the faces of your guests. But wouldn't it be nice to actually attend your own soiree? You can take some of the stress out of entertaining when you use these quick and easy dessert recipes that taste as if you slaved away all day making them. This Resveralife Eat Well Guide highlights the best desserts for easy entertaining.
Strawberries with Cream Cheese Stuffing
Not only does this dessert taste amazing, it's the perfect party food. Guests can easily munch on these without requiring any utensils, or a plate. The very best part about these delectable treats is how simple they are to make. Added bonus? There are only four ingredients needed for this recipe.
Recipe:
Two dozen strawberries hulled
12 ounces of softened cream cheese
Three tablespoons of powdered sugar
One teaspoon of vanilla extract or paste
Even though your cream cheese is softened, you need to heat it a bit more to make it more malleable. Place the cream cheese in a microwave safe bowl and pop it in the microwave for 30 seconds. Whip the heated cream cheese, powdered sugar and vanilla extract together. Spoon, or pipe, the cream cheese mixture into the strawberries. That's it. For an added bit of festivity you could dip the top of the strawberry in toppings such as flaked coconut, slivered almonds, miniature chocolate chips or sprinkles. If not serving immediately, chill until it is time for dessert.
Simplified Italian Sponge Cake
Seriously, this recipe only calls for three ingredients and is a breeze to prep. This easy dessert is as easy to make, though it looks like it is far more difficult that it is. The greatest part about this dessert is that you most likely have all the ingredients you need in your kitchen right now.
Recipe:
Six eggs, separated
One cup sugar
One cup cake flour (if you don't have this, sift white flour multiple times until it is very fine)
To begin, grab two 9-inch pans and line with wax paper and preheat your oven to 350 degrees. Next, separate your eggs and place the whites in a large mixing bowl. The yolks can go into a smaller mixing bowl. Pour 1/2 cup of sugar into the egg whites and beat until they form stiff peaks. Add 1/2 cup of sugar to the yolks and beat until you see a very light yellow color. Gently fold the egg yolk mixture into the egg white mixture. Using 1/3 cup at a time, fold the flour into the egg mixture. Be sure that you don't over-mix the ingredients and use a light hand when folding ingredients in. Pour the batter into the pans and place into preheated oven. Bake for 25-30 minutes, or until a toothpick comes out of the cake dry. Allow the cakes to cool for a few minutes before removing from the pans. Allow to cool completely before topping it, if you want to top it. You can certainly add frosting, a raspberry drizzle or powdered sugar to the top for a bit more flair.
Ice Cream Sandwich Cake
You scream, I scream, we all scream for ice cream! Seriously, who doesn't love a good dessert with ice cream? This ice cream sandwich cake is guaranteed to delight your guests and is super easy to make.
Recipe:
12 unwrapped ice cream sandwiches
1 can chocolate whipped cream (6.5 ounce can)
1 cup of chopped Oreos
Pick your favorite serving plate and place four ice cream sandwiches with their long sides touching on the plate. Squirt a layer of chocolate whipped cream on the top of the ice cream sandwiches. Use 1/3 cup of chopped Oreos and scatter on top of the whipped cream. Repeat the entire process two more times. Top with larger chunks of Oreos or a chocolate drizzle. Place in the freezer and freeze for six hours. You can experiment with all kinds of flavors for this dessert by using different types of ice cream sandwiches, different whipped creams or your favorite cookie (or candy!).
Entertaining should be enjoyable, and you should be able to mingle with your guests. Don't get stuck in the kitchen all evening, these desserts can all be prepared ahead of time. Whip up these easy desserts at your next party and people will be begging you for the recipes.